About La Locanda del Duca
Based in Eastbourne, Sussex, La Locanda del Duca is a popular and well-respected Italian restaurant. Founded alongside Pomodoro e Mozzarella in 2001, our restaurant was established by Gian Luca Albertoli and Victorio Fioravanti. Serving authentic Italian food, La Locanda del Duca offers diners a relaxing atmosphere. Although Victorio sadly passed away in 2007, Luca continues their philosophy. Get in touch today for further details about our restaurant.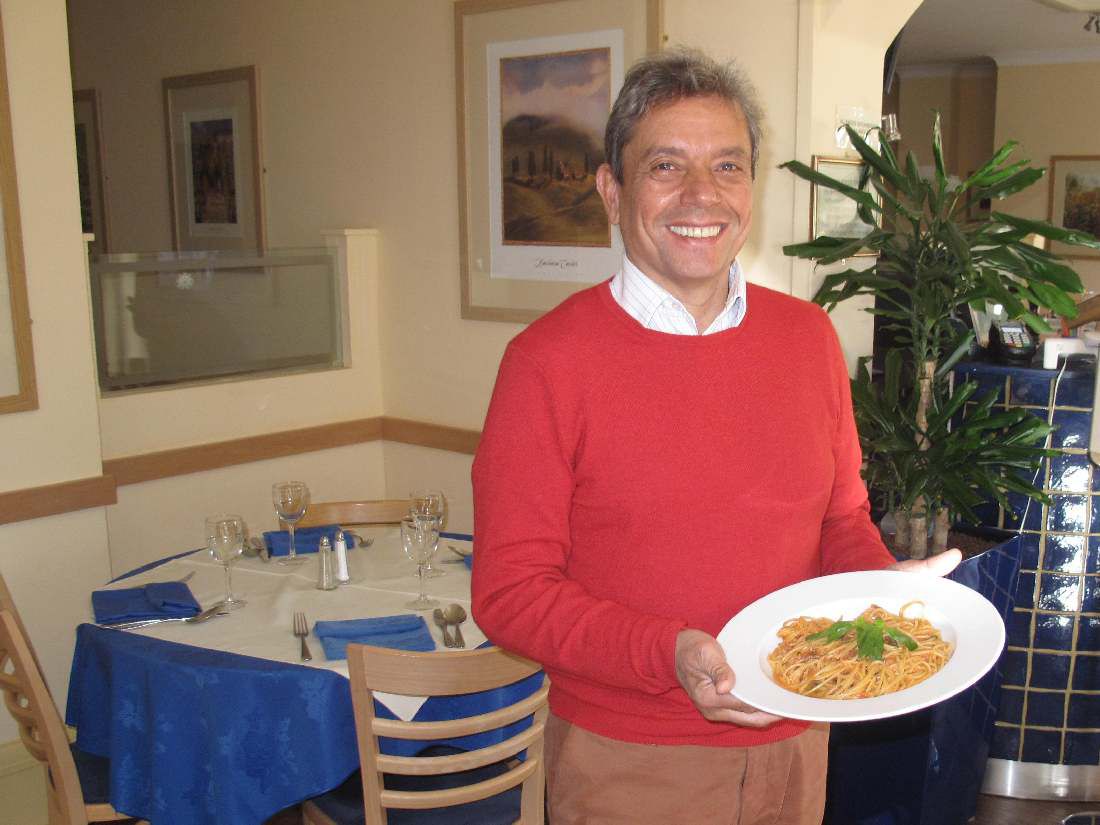 "I was born in Luino, a small town on the shore of "Lago Maggiore" the second largest lake in Italy. At the age of 13 I had a summer job working in my cousin's restaurant as a kitchen assistant. After gaining experience in the basics of catering, I studied for two years to become a chef at "Istituto Professionale Alberghiero Erminio Maggia" in Stresa, at the time one of the best catering schools in Italy.
At the end of my studies, I went on to work in several hotels in Italy including the Grand Hotel at Gardone Riviera (lake of Garda), Savoy in Madonna di Campiglio, Regina Palace in Stresa (Lago Maggiore) and several Hotels in Switzerland at Lugano and Montreux.
In the early eighties I arrived in England mainly to learn the language, and after a few years working in different places decided to settle in Brighton, where I found a position as second chef at "Taverna Sorrento". After which I divided my time between England and Italy, until in 1986 I was offered the opportunity to become head chef of a new restaurant in Hove called Topolino.
I then moved on to work at Pinocchio in Brighton subsequently to Donatello a restaurant in The Lanes Brighton, where I stayed until 2001 when we opened Pomodoro e Mozzarella."
"I was born and educated in Ascoli Piceno a city in the Marche region of Italy. On finishing high school, I decided to go travelling and explore Europe. The first country I visited was Switzerland, where I found a job at the very well-known Palace hotel in St. Moritz, where I remained for two years.
Then I moved on to Germany where I worked in some of the most renowned hotels and restaurants, I also gained a few years' experience as a steward on the cruising boats of the river Rhine. After this, I travelled into France, where I spend about a year in Strasburg working and learning the language, before coming to England again wanting to learn the language, but after few months I decided to stay so found a job in a country restaurant where just a few months later I became head waiter.
I then settled in Brighton where I met my business partner Luca. We worked together for 13 years in restaurants in Brighton until we agreed to start our own company and came to open a restaurant in Eastbourne, which has now grown into two restaurants, Pomodoro e Mozzarella and La Locanda del Duca."
Specialising in Italian food, we are happy to answer any enquiries you have about our restaurant.